Training helps save lives – We are Southern Ontario's on-site specialists for First Aid, CPR & AED training & sales. Allow our medically trained instructors to guide your training with hands on first aid that will best prepare you for a real-life emergency.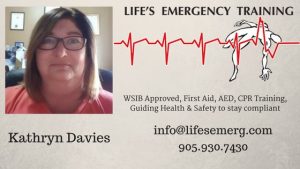 As Owner and Trainer of Life's Emergency Training, I have seen my share of emergencies.  As a Paramedic and Emergency Medical Dispatcher for over 17 years in Toronto, I have responded and assisted in hundreds of emergency calls.  I have a passion for helping and keeping people safe.
"I am an entrepreneurial spirit and perpetual student." 
From continued personal and professional training to giving back to the community, I live and breathe first aid and helping others learn how they can save lives.  From training to writing to volunteering, I am immersed in my passion.
Anything can happen in a split second, as our story last week showed.  An easy relaxing flight turns into an emergency situation where a young man with first aid training, comes to the rescue.
Training helps save lives.  Learn how Life's Emergency Training can offer you, your family, your staff, the best first aid and CPR training so you are ready to come to the rescue.