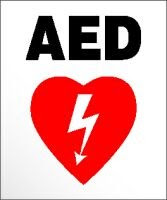 Automated External Defibrillators (AED) save lives every day. Whether you realize it or not they really do. Yet AED's are not mandatory in public and work places. But when they are there AED's save people's lives. It's as simple as that.
Here is some unbiased information from the Herat and Stroke Foundation website regarding workplace AED programs and different AED's approved in Canada.
Information taken from the Heart and Stroke Foundation
AED Program Overview
Every year, about 40,000 Canadians experience sudden cardiac arrest (SCA) — that's one incident every 12 minutes.
SCA can strike without warning, affecting people of all ages and all degrees of fitness. When treating these events, speed is of the essence. If delivered in the first few minutes of a cardiac arrest, for example, early defibrillation and cardiopulmonary resuscitation (CPR) can raise survival rates up to 75%. But each passing minute, the probability of survival decreases by 7% to 10%. Training Canadians in CPR and making defibrillators easily accessible can potentially save thousands of lives.
These facts inspired the HSF's National AED program.
The goal of the National AED program is to improve the survival rate of people who've experienced sudden cardiac arrests in Canada. The program provides funding to place greater numbers of automated external defibrillators (AEDs) in public places and to help HSFC instructors train Canadians to use them.
With so many lives at stake, HSF is working diligently to ensure widespread access to AEDs in communities across the country.
AED Manufacturers
Automated external defibrillator (AED) products manufactured by the companies listed below have been approved for use in Canada.
The Heart and Stroke Foundation of Canada (HSF) does not recommend or endorse specific products from any single manufacturer or distributor. HSF encourages interested parties to contact each company to obtain product information and to find out how they can help meet the needs of specific AED programs.
Licensing information about individual AEDs may be obtained through Health Canada's Medical Devices Licence listing
| | |
| --- | --- |
| Cardiac Science Corporation | |
| Defibtech, LLC | |
| HeartSine® Technologies, Inc. | |
| Philips Healthcare | |
| Physio-Control/Medtronic of Canada Ltd. | |
|  Zoll Medical Corporation | |
| | |
Now that you have the information take ACTION! Call for your AED today.