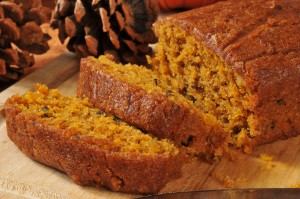 If pumpkins are in season, roast a small pie pumpkin and puree the flesh in a blender or food processor for this loaf cake. Otherwise, use canned pumpkin.
Makes 12 slices
Ingredients
3 tablespoons canola oil
3/4 cup homemade or canned pumpkin puree
1/2 cup honey
3 tablespoons firmly packed brown sugar
2 eggs, lightly beaten
1 cup whole-wheat (whole-meal) flour
1/2 cup all-purpose (plain) flour
2 tablespoons flaxseed
1/2 teaspoon baking powder
1/2 teaspoon ground allspice
1/2 teaspoon ground cinnamon
1/2 teaspoon ground nutmeg
1/4 teaspoon ground cloves
1/4 teaspoon salt
2 tablespoons chopped hazelnuts (filberts)
Directions
Preheat the oven to 350 F. Lightly coat an 8-by-4-inch loaf pan with cooking spray.
In a large bowl, using an electric mixer on low speed, beat together the canola oil, pumpkin puree, honey, brown sugar and eggs until well blended.
In a small bowl, whisk together the flours, flaxseed, baking powder, allspice, cinnamon, nutmeg, cloves and salt. Add the flour mixture to the pumpkin mixture and, using the electric mixer on medium speed, beat until well blended.
Pour the batter into the prepared pan. Sprinkle the hazelnuts evenly over the top and press down gently to lodge the nuts into the batter. Bake until a toothpick inserted into the center of the loaf comes out clean, about 50 to 55 minutes. Let cool in the pan on a wire rack for 10 minutes. Turn the loaf out of the pan onto the rack and let cool completely. Cut into 12 slices to serve.