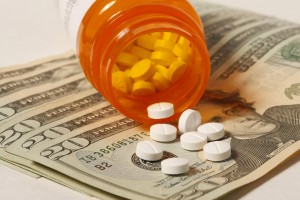 Yet another Hamilton pharmacy was robbed over the weekend, as the number of narcotics thefts in the city this year soars.
It happened on Sunday around 9:30 p.m., police say, at a pharmacy at 1395 Upper Ottawa Street.
Witnesses told police that a man walked into the pharmacy with a small knife and demanded narcotics.
He stole an "undisclosed" amount of drugs, police say, and then ran off. The pharmacy's employee wasn't hurt during the robbery.
Police canvassed the area for the man, but came up empty.
Police have been called in to investigate 20 pharmacy robberies so far this year, compared to seven in all of 2014.
In all of the robberies, thieves targeted prescription narcotics. In some cases, the same pharmacy was hit more than once.
In an interview last month, Staff Sgt. Emidio Evangelista told CBC News that it's tough to say whether this spike is indicative of a wider trend.
"It could be two or three people that all of a sudden do four or five robberies, and then that's the increase," he said. "I arrest them, and then it goes back to the average."
The street value of prescription drugs has gone up, he says — in part because doctors are actively trying to prescribe these drugs more selectively.
"It's a terrible disease that can be lethal," he said.
Hamilton's well-documented opioid problem has been getting worse for years. Drugs like oxycodone, Percocet and morphine are all proving to be an issue.
Fentanyl – an extremely potent painkiller that is 80 times more powerful than heroin – has also become a problem in the city. In 2014, police issued warnings about a batch of "bad heroin" that was likely mixed with fentanyl that caused a spike of heroin overdoses in the city.
According to a recent study from The Canadian Community Epidemiology Network on Drug Use, the drug was involved in 655 deaths between 2009 and 2014.