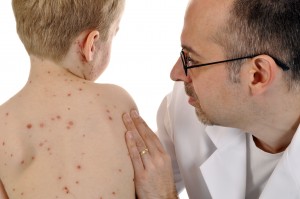 Peel Region residence beware there is a "possible measles case" that has been all over Pearson International Airport, Brampton Civic Hospital and a few walk in clinics since January 1, 2016. If you believe you may have been in contact with this person get more information from Peel Public Health Unit 905-799-7700.
Peel Public Health says "possible" because it can take a full three weeks or 21 days for the signs and symptoms to develop fully to confirm a measles diagnosis. Although most medical experts say 14 days is the average.
Measles although has been almost eliminated in Canada since 2000, there are still 20 million people infected each year. Therefore, most measles cases are imported from other parts of the world just like the Peel Region case above.
There are a few reasons that measles are so contagious. Firstly, the person is contagious 4 days before any symptoms occur. Oh and the means of spreading the measles is airborne.
Public health is asking all residence to confirm that all persons (children and adults) have had the measles vaccination.
Watch for a high fever, sensitivity to light, rash and spots with white centres. If you have any symptoms you believe could be measles, do not just go to the hospital or doctors, call first!
Be safe and get vaccinated!