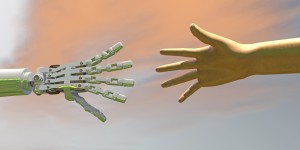 Edmonton teens are helping citizens in their own backyard as well as many others in Third World Countries.
Three grade 12 students are using the latest 3D printers to produce hands for low income families with children often shunned due to missing limbs.
With technical help from a Calgary businessman whose company specializes in 3D printers, they've purchased prosthetic hand kits for $25 apiece but if made professionally they could cost upwards of $1000 each. Each kit takes approximately 13 hours to print
"What if one of my children, at a young age lost a hand? This could go to a kid that might be able to participate more with one of his peers in the playground or wherever it is" says Aaron Dublenko, teacher of innovate program.
Good luck with your endeavour. I hope it expands to many more schools.